Palmquists travel to St. Louis to participate in Operation Save America ministry activities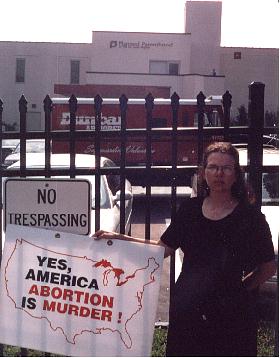 We left California on July 26, and arrived in St. Louis on July 30, stopping to see friends and family in Wisconsin, Illinois, and Indiana along the way. (Yes, we definitely took the "long way" to St. Louis!)
We had a busy week in St. Louis, as each day's activities began at 5:30 am and continued until late in the evening.
On Thursday morning, as we stood outside Planned Parenthood's St. Louis fortress, we watched in disgust as an armoured truck came to haul away the blood money Planned Parenthood receives for destroying our nation's children.
We spent many hours during the week outside the notorious "Hope Clinic for Women" in Granite City, IL where many women from states in the central midwest come for late term abortions. We also walked in prayer outside the adjacent Catholic hospital, St. Elizabeth, which claims to be pro-life while allowing the late-term abortionist to be their OB/GYN Chief of Staff. (Read more about this scandal.)
The highlight of the week for us was the baptism of our three oldest children, Andrew, Amy, and Micah, by Rev. Flip Benham on Thursday evening.
We'll share more with you about what we did in St. Louis if you come back to visit us again soon. In the meantime, you may want to visit Operation Save America's website.
We also hope you will begin making plans now to join us in Wichita, Kansas, July 15-21, 2001, as we seek to "Finish the Job!"
---
Palmquist family home page